And Another Eating Out
A charcoal-grilled lamb kebab, spiced with rosemary and garlic, washed down with some fruity red (not necessarily retsina, although on a starlit night, overlooking the same sea that Plato and Aristotle admired, retsina does have a certain tang about it) t here is much to be said for Greek food. Athenians have discovered this long ago and are great lovers of dining out, so there is a huge choice of great restaurants catering for the locals with a wide range of Greek dishes.

A good place for a quiet business lunch is Gerofinikas, 10 Pindarou Street, tel. +30 (210) 363 6710.

To combine eating with sightseeing, try Dionysos-Zonar's right opposite the Acropolis, tel. +30 (210) 923 3182.

It's well worth the trip to Piraeus for some of the best seafood you'll find anywhere, to the waterfront fish taverna Kritikos, tel. +30 (210) 451 1231 or 428 6034.

Back in Athens, there are plenty of tempting tavernas in Plaka, especially along Lysiou Street and Tripodon Street. The multicultural scene of today's Plaka may be felt at Taverna Platanos at 4, Diogenes Street, where old Greek residents and y oung Japanese tourists rub soulders as they tuck into mousaka and souvlaki washed down with a tolerably pungent retsina.


Guiding light
Athens is a city which can comfortably be explored on foot, although in the heat of summer you may struggle to walk up Filopappou Hill for its spectacular view of the Acropolis. The equally panoramic vantage point on Likavitos Hill can be reached by funic ular. Given the vast amount of history lurking in the ancient stones of Athens, hiring a competent guide is a sensible option. We were most impressed by the ability of Anna Kalpaka Ferentinou to get the basics across in an easy, instructive manner in impe ccable English, tel. +30 (210) 701 0381 or 723 0298, mobile 093 225190.

Tourist information
Best bet is to study your options before you set off. The National Tourist Organization of Greece in London is at 4 Conduit Street, London W1R 0DJ, tel. +44 171 734 5997, fax +44 171 287 1369 and can supply plenty of useful material. Ask for the brochure Athens - General Information which tells you all you need to know about what to do in Athens and the many exciting one-day excursion possibilities.



[ Athens Now ] [The Pleasure Business ] [ And another thing ]
---
Business Life, British Airways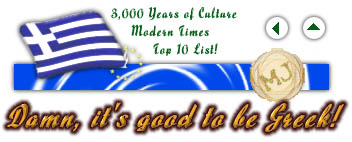 Pages made and hosted by the Magical Journey to Greece™. © 1997-1998.
No part of this site may be reproduced, stored in any form or by any means, without the prior permission of the publisher.