The modernization works of the unit, that was purchased in 1992, began later on and was completed within 19 months, record time for American standards. Mr. Agis Prezanis, president of CCC Co. Management Committee that owns the Roanoke station, explains that the unit has more than doubled its production capabilities. Today it is considered one the most technologically advanced factories in its field.
Greek Businesses in the Balkans
In Central Europe the activities of the Elliniki Ifantourgia SA. (Hellenic Textile) are of particular interest. This company contributes by 50% in a production unit in Poland, that was created in 1995 and aims to provide jeans fabric to the local market and gradually begin exporting activities. The establishment in Poland of a weaving factory and of a factory for the production of indigo denim aims to secure high quality, low cost denim fabric for the other textile industries in Poland, which already constitutes an important in size market for the Hellenic Textile. The factory is located in the Zielona Gora area.
In Hungary, the biggest Greek investor is the Zeritis Group of the Chartopiia Thrakis SA. (Paper Industry of Thrace), that consists of four factories, the largest of which is in Hungary and produces almost double amount of product s than the ones in Thrace.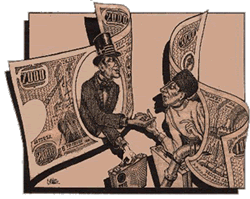 Piszkel Paper Mill SA is located in the region of Labatlan in Hungary and is the leading tissue and light paper company in Hungary. This industry is considered to be of a high technological level, since it was built by Finnish business men. The Greek group applied its own technology there, upgrading even more the quality and effectiveness of the production process. The company has 914 employees. In 1996 their production came up to 56,000 tons and was 48.7% of the total production of the company 's four paper-industries. Net sales were in the order of $54.92 mil. St. Andre Paper Mill SA, located in Budapest, Hungary, also belongs to the Greek group. That's the leading company in Hungary in the production of envelopes and special types of paper, and has 260 employees. Pyramid Paper Mill SA, located in Egypt, also belongs to the same group. Its production in 1996 was 21,000 tons, equaling 18.3% of the group's total production, that gave sales worth $25.51 mil. It has 528 employees. Altogether, the production of the Zeritis group produced 115,000 tons of paper in 1996, 28,000 of which were produced in Greece, 66,000 in Hungary and the remaining 21,000 in Egypt.
Higher up, in Russia, the Greek group Meton - ETEP is turning into a major industrial investor. In the beginning of 1997 the European Bank for Development decided to grand a $20.1 mil. loan to the group of companies of the Arfani - Chioni families, in order to cover by 1/3 the investments of the collaboration of Athens - Volga. Taking part in this collaboration are the Greek group and the local authorities of Volgogrand in Russia. The collaboration is active in the field of food products and its new investments totaling $57.5 mil. targets to expand in other food-related areas.
But to get back to the Balkans, the largest brewing company in Bulgaria already belongs to a Greek firm, that will soon, if all goes well, open another brewery in Skopje (FYROM). Brewinvest is a company established by Athenian Brewery SA (Athinaiki Zithopiia AE) and Hellenic Bottling Company SA (Elliniki Eteria Emfialoseos AE), with 50% participation each and aiming to the development of brewing in Bulgaria. It holds a share capital of 6 billion drach. (more than $2.3 mil.)
The company controls since 1994 more than 80% of Zagorka AD, the biggest brewing company. Taking control cost Brewinvest about $21 mil. and Brewinvest is now planning other big investments in Bulgarian and other Balkan brewing industries. It ha s been mentioned that Zagorka made sales in the order of $50 mil. in 1995 and had a profit of about 2 bil. drach (more than $700 mil.) In 1996, because of the crisis in the Bulgarian society, the company's financial development wasn't satisfactory, yet it s market share scored another increase that is well over 20%. The Athenian Brewery has taken upon itself the right and the responsibility from the international group that it belongs to, to further expand in the Balkans and in Eastern Europe. The company has 550 employees.
And speaking about FYROM, let us note that one of the biggest multinational Greek corporations, Kapniki Michailides SA (tobacco), bought towards the end of 1996 40% of Strumica Tabac factory, that is located 45 km from the Greek-Skopjan borders in FYROM. 20% was purchased by the local government and 40% by the workers in the factory, in whose hands the factory had come to according to the current privatization model. A 500 mil dr. investment ($2 mil.) is already underway in the unit. Kap niki's total investment will eventually sum up to 6.7 mil. DM. Strumica already made its first exports, totaling $3 mil. in the Japanese, Ukrainian and Russian market. The company's next targets are European and US markets. The Greek tobacco company also has a unit in Smyrne; a unit that includes storage facilities totaling 12,500 sq.m., with an investment that reached $8.1 mil. In Smyrne there 35 men and 350 women are currently being employed. The Greek company also has factories in Albania: In Koritsa it covers an area of 17,400 sq.m. and employs 120 men and 450 women. The respective one in Berati has an area of 9,250 sq.m. and employs 100 men and 400 women. At the same time steps are being take for the opening of the new company Atlas Tobacco in Algeria, the share capital of which amounts $7.3 mil. The company's shareholders are Michailides A. Kapniki SA with 55%, Algeria's state monopoly with 35% and the European District Treasury holds a 10%.
In Rumania, where a continually increasing number of Greek investments is being made, Intracom SA has been industrially present several years now. The Greek group has 65% and control of the industrial corporation Intrarom SA, who se factory is just outside Bucurest in an area of 10 acres, with production facilities along 4,000 sq.m. and offices on 2,000 sq. m. This factory produces electronic and telecommunication's equipment - such as PCM's, card phones, electronic energy counter s, agricultural radio networks - , terminal units, Lotto machines, and logic. It employs 140 people and in December of 1996 it completed an investment with a capital of $7.5 mil.
Intrarom, 35% of which belongs to the Rumanian computer company Automatica, is just one of Intracom's international investments. In 1996 it completed an investment round of $9.5 mil. against $6 mil. in 1995, whereas in 1997 the investment round is estimated to rise to $15 mil. The company's clients are Rumania's respective telecommunications', power, rail and sports' organizations.
In this country, two more Greek industries have production facilities. In April 1997 Cretan Plastics SA set an industrial unit in operation through a joint venture. The object is master batches production, that is the primary material us ed in the plastics' industry. Romcolor 2000 SA is the name of the company that has been put together. Plastics' company Argo AEBE has also moved to the creation of a production unit in Rumania. Since Jan. 1st 1996 Argo Rom daughter company is in operation there. It's factory that is in Bucurest has already began production.
(More to come in September)