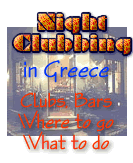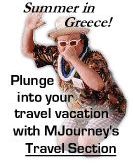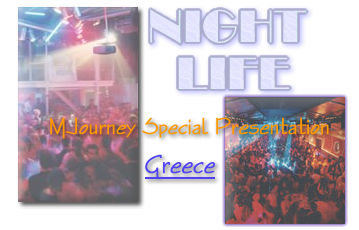 [ Intro ] [ Overview ] [ Savoir Faire ] [ Tour the clubs ]


When you are thinking of Greece you may be thinking of the deep blue sea, the beautiful beaches, the clear, sunny sky and the hospitality of the people. You may on the other hand be thinking of Greece as the center of ancient civilization, the birth place of Socrates and Plato, of Alexander the Great and of the Byzantine empire. Some of you may have even experienced Greece as a growing market, an integral member of the european community and a promising work place.
Yet another well known aspect of Greece, the ingredient that completes the recipe for a good life, the offspring of the innate tendency of the Greeks to enjoy life to its fullest, is Greece's exceptional night life! 'Happenings' in front and behind the bars, the fun and the hight spirits of night clubbers fill the scene of the Greek guide to good life.
You are about to enter a magical world! Words just aren't enough when it comes to describing the Greek night life. You have to live it if you want to trully feel the excitement, the freedom, the magic of this amazing aspect of Greece. Yet the pictures and descriptions that follow will attempt to give you a pretty good idea.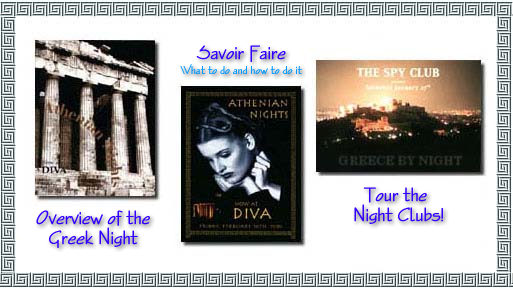 [ Overview of the Greek night] [ Savoir Faire ] [ Tour the night clubs]


Xρήσιμες πληροφορίες, αποκλειστικές προσφορές και πολλά άλλα ...

Συμπληρώστε το email σας: